"Jerry Seinfeld once joked that for most people, the fear of public speaking ranks higher than the fear of death: This means to the average person, if you have to go to a funeral, you're better off in the casket than doing the eulogy." (Adams, Susan, "Why Public Speaking Scares You and How to Overcome Your Fear", Forbes, Mar 7, 2012).
We all must do some form of public speaking at one time or another and if you are like most people, you have some fear of it. Work, school, church, clubs, social, and family gatherings all give you opportunities to speak in small or large groups with people you know and don't know. There is a group that helps you build the skills and confidence in developing public speaking and this group is called Toastmasters.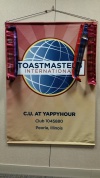 Toastmasters has been around since 1905 and has grown internationally to aid people of all walks of life and cultures to learn how to speak comfortably in front of any audience. The original founder, Ralph C. Smedley's first meetings began in Bloomington, Illinois as a way to help others. Later, the first official Toastmasters meeting was held for Club 1 on October 22, 1924. At Toastmasters meetings you learn in a safe, supportive, and friendly environment.
Toastmasters is about helping each member get over the difficulties of speaking in public whether one-on-one or in front of a group. New in 2018, Toastmasters provides participants with different Pathways to choose based on their goals. While working your own Pathway, you complete unique assignments and once you have completed a few speeches, you are awarded recognition.
At CEFCU's Peoria Headquarters, our Toastmasters club has been providing opportunities to listen, learn, lead, and speak for employees and community members to improve their speaking skills for the past ten years. When you join, your first speech is about telling us about yourself in what is called the Ice Breaker Speech. What is an Ice Breaker? Merriam-Webster defines the word icebreaker as "something that is done or said to get through the first difficulties in starting a conversation or discussion".
Aiding you in success will be the V.P. of Education and a mentor. As your speaking and leadership skills progress, your mentor will guide you in refining and accomplishing the personal goals you set. Your speaking skills will become effective and comfortable in all the roles in which you fulfill as a speaker; from a talk with a child to a presentation at work, Toastmasters Club, C.U. at Yappyhour, will help you succeed.
Since 2008 your CEFCU Toastmasters chapter, C.U. at Yappyhour, has been open to both CEFCU employees and members of the community who want to learn and improve their public speaking and leadership skills. The C.U. at Yappyhour, club 1045880, was formed in January 2008 and will commemorate its 10th Anniversary on Friday, May 18, 2018 with a morning Charter Celebration at the CEFCU office near the Peoria International Airport.
Get introduced or re-introduced to the fun and benefits of Toastmasters International and our CEFCU chapter. To attend personally or virtually you may contact us at C.U. at Yappyhour. To learn more about Toastmasters or C.U. at Yappyhour go to any of the following links:
Toastmasters, C.U. at Yappyhour, and Toastmasters' Pathways program, on https://www.facebook.com/YappyhourTM/.