If you are using a screen reader or other auxiliary aid and are having problems using this website, please contact us at 1.800.633.7077.
Debit Card
Enjoy purchasing power, added cardholder benefits, Footnote 1 and access to over 30,000 ATMs nationwide.
It's Your So Much More Card.


Security
Secure Shopping
Price Protection
Extended Warranty Coverage
Satisfaction Guaranteed
Service
Convenience & Savings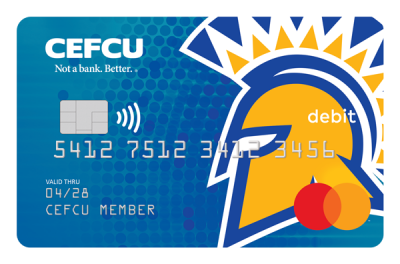 Show your Spartan pride!
Carry a San Jose State University (SJSU) CEFCU Debit Mastercard! Apply online for your SJSU CEFCU Debit Mastercard.
World Debit Mastercard
At each Debit Mastercard expiration date, we will evaluate card usage and account standing to see if you are eligible for the upgrade to a World Debit Mastercard.
Zero Liability
Pay only for purchases which you have authorized on your Mastercard card. Unauthorized purchases are not your responsibility. Conditions and exceptions apply. Get Details .
1. For complete details, see the CEFCU Debit Mastercard Guide to Benefits (PDF) or CEFCU World Debit Mastercard Guide to Benefits > (PDF).
2. Use your CEFCU Debit Mastercard anywhere the Mastercard, Cirrus®, or Maestro® acceptance marks are displayed. There is a $1.50 service charge for each transaction initiated at an ATM other than a CEFCU or CO-OP ATM. In such cases, the ATM owner may also charge you a usage or surcharge fee. ATM cash withdrawals, purchases with your PIN, and signature purchases with your Debit Card are subject to daily limits.