If you are using a screen reader or other auxiliary aid and are having problems using this website, please contact us at 1.800.633.7077.
What is a Contactless Card?
A Contactless Card allows cardholders to make fast, convenient, and secure payments by simply tapping a contactless-enabled card anywhere contactless payments are accepted.
Contactless Indicator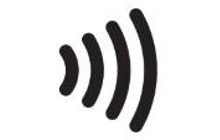 Contactless Symbol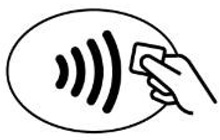 How does the card work?
Contactless Cards have an encrypted microchip and antenna embedded within the plastic that transmits card information when used at contactless-enabled ATMs and point-of-sale (POS) terminals — just like EMV chip cards!
To validate the transaction, a unique, one-time-only number is generated by the contactless payment device — keeping your payment information securely encrypted throughout the entire process.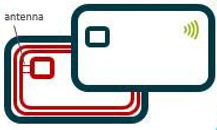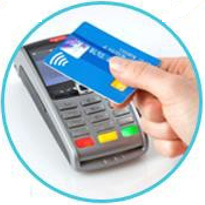 Why Contactless?
Transactions are secure and TWICE as fast as EMV Chip transactions at contactless-enabled merchants.

Eight out of 10 top merchants are contactless-enabled.
Contactless payments are more secure and easier to use. The card never leaves your hand.
61% of face-to-face transactions occur at tap to pay merchants.
Is this similar to using my smart phone or smart device to pay?
Yes. Contactless Card payments use the same near-field communication (NFC) technology as Digital Wallets (e.g., Apple Pay®, Fitbit Pay™, Garmin Pay™, Google Pay™, and Samsung Pay®).
How do I use my Contactless Card?
When prompted, simply hold your Card within 1-2 inches of a contactless-enabled terminal (near the contactless symbol) until you get the ok — when you hear a "beep" or see a checkmark or green light, you can remove your card.
Your Card should be held flat over the contactless symbol on the terminal.
Depending on the merchant, you may not be asked to enter your PIN or sign for approval — further speeding up your transaction.
What if the ATM or POS terminal doesn't accept contactless?
If contactless payment is not accepted, you insert your Card or swipe like you have in the past.
You are not required to utilize the contactless feature of your Card. If you choose, you can continue to insert or swipe your Card.
How will I know if I have a Contactless Card?
Contactless Cards feature the contactless indicator, as seen in this example:

What happens if I wave my Card twice?
Rest assured, only one payment will be required. During the payment process, the terminal cannot run a second transaction until the first has been completed.
Can Contactless Cards be damaged?
Yes. Just like EMV chip and magnetic strips, the payment technology of a Contactless Card can also be damaged. If you believe your Card has been damaged, please contact CEFCU at 1.800.542.3328.
Are Contactless Cards safe?
Yes! Just as safe as using the chip to pay, and significantly safer than swiping!
Your personal information, like address, name, or CVV code, is never shared.
Each transaction generates a dynamic, one-time-only number that securely identifies each transaction, just like a chip card.
Cards must be within 1-2 inches of the checkout terminal for the transaction to occur, so you can't pay by accident and the Card never leaves your hand.
What are the common myths with Contactless Cards?
| Common Myth | Reality |
| --- | --- |
| If my contactless information is intercepted, a counterfeit card can be created to be used in a store. | A dynamic one-time-only code is generated to uniquely identify each individual transaction, so critical card information is not shared. |
| Even though the card can't be counterfeited, it can still be used for online transactions. | An online transaction requires information that is not shared when a card is used as a contactless payment — so it cannot be duplicated. |
| If my card information is stolen, my identity can be stolen as well. | Contactless Cards and devices do not transmit information about the cardholder. |