If you are using a screen reader or other auxiliary aid and are having problems using this website, please contact us at 1.800.633.7077.
Loan & Payment Protection
Choose affordable insurance to protect your family, loan, and credit rating.
MEMBER'S CHOICE®
Credit Life Insurance

footnote

1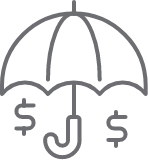 Reduces or pays off your insured loan balance.footnote 2
MEMBER'S CHOICE®
Credit Disability

footnote

1 Insurance

Kicks in if you are off work for more than 14 days due to accident or illness.
Ask us about making Credit Life and Disability Insurance part of your monthly loan payment.
CEFCU members also have access to:
1. Available from CMFG Life Insurance Company through CEFCU.
2. Up to the policy maximum should you pass away before the loan is repaid.