If you are using a screen reader or other auxiliary aid and are having problems using this website, please contact us at 1.800.633.7077.
Sharing the Success
$40 Million Extraordinary Dividend!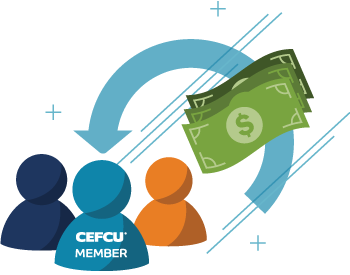 At CEFCU, you're actually an owner — that's the CEFCU difference. Every day, you enjoy lower fees, great rates, and much more. And, when business allows, you also share in an Extraordinary Dividend.
Extraordinary Dividends aren't guaranteed. But when they happen, the members who share the Dividend are the ones who made it possible — the borrowers and savers who invested in CEFCU by doing business here.
Not a member? Maybe you should be. Believe in better, and switch to CEFCU.
Learn more from CEFCU's CEO
At CEFCU, you're part of a bigger community of borrowers and savers helping each other.